Awards and Achievements
Britney Cope is March DAISY Award Winner
Published: March 29, 2018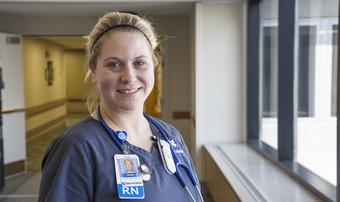 Britney Cope, RN, from the Methodist Hospital cardiac unit, was honored at a recognition ceremony on March 28 as the March DAISY Award winner for Methodist Hospital and Methodist Women's Hospital.  
Cope was nominated by the husband of a patient for the compassionate way she cared for both him and his wife.
In the three days the man's wife was in the hospital, he rarely left her side. It wasn't until Britney overheard them talking that she realized the true reason. The couple didn't have enough money in their bank account to fill their car with gas – let alone fill his empty stomach in the hospital cafeteria.
"I was hungry, embarrassed and stuck here with my sick wife," wrote the husband. "Not only did Britney care enough to share some information with me to help me put something in my stomach, she acted on it and blessed me with a way to eat."
Britney gave the man a snack and worked with the leadership on the floor to provide him with meal vouchers. It was the extra step of extending The Meaning of Care not just to the patient, but to the patient's husband that made a lasting impression on a family in need.
"I can tell when someone is there to do their job and the ones who go the extra mile to show they care. Britney is one of those nurses who care… She is an angel in disguise. For this reason and because of her great attitude, behavior, kindness and love she showed to me and my wife, she deserves to be nominated for the DAISY Award for extraordinary nurses. All hospitals should have nurses like Britney Cope."
 
---
The DAISY Award is a nationwide program that rewards and celebrates extraordinary skill and compassionate care given by nurses every day. Nurses can be nominated by anyone, including patients, family members, physicians, supervisors or their peers.
To nominate a nurse at Methodist Hospital or Methodist Women's Hospital, visit  www.bestcare.org/daisy .