News and Events
Appointments Available for Free Oral, Head & Neck Cancer Screening at MECC April 5
Published: March 19, 2018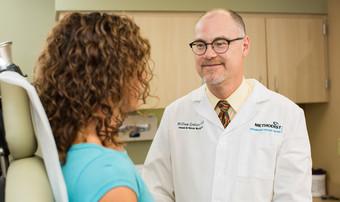 In the United States head and neck cancers account for about 3 percent of all cancers. According to the American Cancer Society, in 2018 more than 100,000 people will develop head and neck cancers.
As with any cancer, early diagnosis is key.
Methodist Estabrook Cancer Center is hosting free oral, head and neck cancer screenings April 5 to potentially catch those cancers in their earliest stage. The screenings are guided by fellowship-trained oncologists at Methodist, the area's largest specialty practice for head and neck cancers.
Screening appointments are limited and registration is required. 
Methodist Estabrook Cancer Center
Thursday, April 5 from 3 to 6 p.m.
Call 402-354-5850 to schedule.
Free valet parking is available at the east entrance of Methodist Estabrook Cancer Center, just south of Methodist Hospital on the 84th and Dodge Street campus.
Persons who should consider attending one of the free screenings are those with these risk factors:
Smoke
Chew tobacco
Drink alcohol
Prior history of cancer in the head or neck region
Multiple sexual partners
Signs and symptoms of cancer include:
A mouth sore that isn't healing
Sore throat
Difficulty swallowing
A change in voice
A painless lump in the neck
For more information visit bestcare.org/headandneck