Awards and Achievements
14 Nurses Graduated from Nurse Residency Program in March
Published: March 16, 2018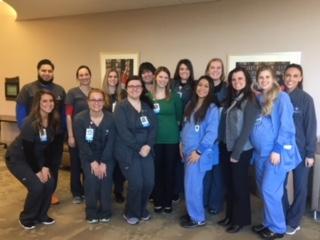 Congratulations to the 14 nurses of Cohort #21 that graduated from the Nurse Residency Program on March 13, 2018
Nurse Residents in front row from left: Mary Arnold, Amanda Brightweiser, Sajna Bates, Amanda Bedel, Lisa Alvarez, Brooke Warner, Sarah Wallace.
Nurse Residents in back row from left: Sami Mohsini, Caitlin Wells, Sarah Lush, Michelle Malick, Cortney Pasek, Taylor Ginn, Jenae Romaire.   
The program assists new graduates with transitioning into their professional role. Graduates completed 12 months of learning focused on critical thinking, patient safety, leadership and communication skills, evidence based practice and professional development.