Awards and Achievements
Daniel Gokie Is February DAISY Award Winner
Published: Feb. 22, 2018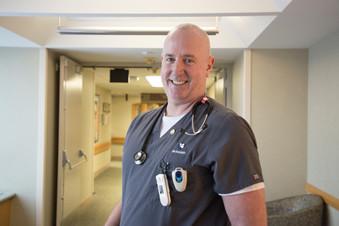 Daniel Gokie, BSN, RN, LIMHP, from Methodist Hospital 6 North, was honored at a recognition ceremony on February 22 as the February DAISY Award winner for Methodist Hospital and Methodist Women's Hospital.
Daniel was nominated by the wife of a terminally ill patient who passed during a brief stay at Methodist last November. 
While the patient received most of his previous care at another hospital in Omaha, when the patient's health deteriorated at home, the ambulance brought him to Methodist. The patient's wife claimed that twist of fate made all the difference during her husband's final days and hours.
"I think it was by the grace of God that they (brought us here) because of the love, personalization and care we received," she told Methodist.
The patient's family nominated Daniel for the DAISY Award because of the outstanding care he provided to all of them during their short time in the hospital. The patient's wife read her nomination letter to the group who came to celebrate his achievement:
"Daniel was warm, caring, compassionate, informative and thorough regarding my husband's care. When it became evident my husband's time was short, he was so sensitive to our feelings. He checked on us often, many times, just to see how we were holding up. He was patient with the many visitors who filled the room and were many times in his way. He stayed beyond his shift, to be sure we were comfortable and made sure all of our questions were answered. Daniel made a very, very hard situation bearable. I felt that he was the answer to the many prayers I had said over the past years of my husband's illness and imminent death. This world needs more people like Daniel Gokie in it."
Daniel said the support and teamwork at Methodist helps nurses give patients and families the time and attention they deserve during difficult end-of-life situations. He said Comfort Care services make all the difference.
"Everything was just above and beyond what I could have asked for in his final days," said the patient's wife. "It was all in God's hands. Everything I prayed for was right here."
---
The DAISY Award is a nationwide program that rewards and celebrates extraordinary skill and compassionate care given by nurses every day. Nurses can be nominated by anyone, including patients, family members, physicians, supervisors or their peers.
To nominate a nurse at Methodist Hospital or Methodist Women's Hospital, visit www.bestcare.org/daisy.