Awards and Achievements
Abboud Honored with American Cancer Society Award, Hope Lodge Opens
Published: Jan. 31, 2018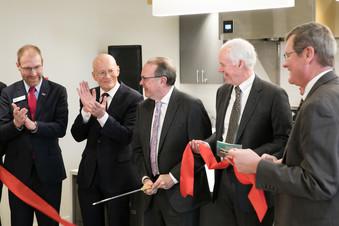 For those traveling from afar for cancer treatment in Omaha, the American Cancer Society now has a place they can call home during their cancer journey.
The Hope Lodge Nebraska grand opening and ribbon cutting celebrated a project 11 years in the making and was aided by the generous donation of the land at 8030 Farnam Drive by Methodist Hospital.
The celebration also included the presentation of the American Cancer Society St. George National Award to Josie Abboud, executive vice president and chief operating officer at Methodist Hospital and long-time American Cancer Society volunteer.
Abboud is one of 23 volunteers from across the United States to receive the St. George award, one of the ACS's most prestigious volunteer honors.
"Josie was a key leader in the development and formation of the Omaha volunteer leadership board and is a strong supporter of the Omaha Hope Lodge campaign," said Dr. Bob Langdon, chairman of the Hope Lodge Campaign Committee. "She often facilitates and enhances collaboration opportunities for the ACS mission among many partners. Josie has been very committed to the American Cancer Society and those impacted by cancer. She is truly deserving of this great honor."
Abboud has been active as a volunteer with the Society since 2011 and has served in various volunteer roles at all levels.
"It is such an honor to receive the St. George award, knowing its long history and those who have been recognized before me," Abboud said. "It is easy to support an organization with your time, talents and dedication for a cause that is so great."
Hope Lodge Nebraska will provide lodging and amenities, free of charge, to cancer patients who travel more than 40 miles for treatment. Cancer patients and caregivers will now be able to relax, heal and support each other while staying at the Hope Lodge and receiving care at one of Omaha's cancer treatment facilities. 
Each of the 32 patient suites has a private bedroom and bathroom, which includes two beds (1 twin, 1 queen), television, dresser and WiFi service. The facility is decorated with locally created artwork to offer guests a feel of home. 
Another key design of the Hope Lodge Nebraska is the common living areas incorporated throughout the facility to encourage interaction and sharing of experiences. These spaces include:
A fully-equipped kitchen that allows guests to prepare food, along with an adjacent dining room for guests to eat together. 
A spacious living room on each floor so guests can gather and share experiences with other guests.
The healing garden where guests can unwind in an outdoor space for meditation and reflection.
A shared laundry room on each floor, contemplation room, library, and other amenities to ensure life for the patient and caregiver can continue on as normal as possible.
"This day marks a dream come true for many of us in the health field," said Dr. Dan Lydiatt, head and neck surgical oncologist and medical director at Methodist Estabrook Cancer Center. "On behalf of my group and myself, I want to thank the American Cancer Society, Methodist Hospital and each and every person who has helped make this dream a reality. You have truly contributed to caring for these patients."
The average stay of patients utilizing the Society's other operating lodges around the country is approximately 15 nights. Hope Lodge Nebraska is expected to provide approximately 10,500 nights of lodging to patients and caregivers each year.