Awards and Achievements
18 AgeWISE Nurses Graduated in December, Cohort #13 Started in January
Published: Jan. 24, 2018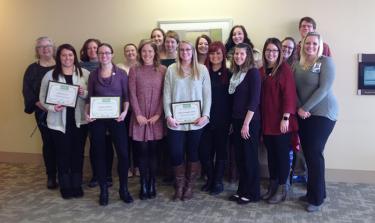 Eighteen nurses, representing eight nursing units/departments graduated from the AgeWISE residency on December 20. 
These recent AgeWISE graduates (Cohort #12) will sit for certification in either Gerontological Nursing or Hospice and Palliative Care Nursing, or within their unit specialty as an outcome of the nurse residency:
4 South
Abbie Loehr 
Heather Dostal
5 South
Justine Cox
Megan Burdess
6 South 
Chelsea Smith 
Sarah Noordam
7 South
Kristin Nboda 
Jessica Redlinger 
Ashely Ernst
8 North 
Maria Mencke-Teager
Brianna Washka
8 South
9 South/North
Holly Darrington
Tim Hoarty
Lindsay Temme
MH ED
Chelsea Craig
Jessica Seymour 
About AgeWISE
AgeWISE promotes the crucial role nurses play in enhancing the hospital experience for older patients and their families. Methodist  has more than 200 AgeWISE nurses on staff infusing Geropalliative care nursing principles throughout the hospitals. 
Methodist continues to be a national leader in AgeWISE and has graduated more AgeWISE nurses than any of the original six pilot hospitals selected in 2010.
This program is a collaboration between the hospital and our Department of Nursing at Nebraska Methodist College. AgeWISE nurses report gaining enhanced knowledge in Geropalliative care to provide more specific and sensitive care to their patients, as well as a sense of empowerment and increased confidence when having difficult conversations with patients, families and physicians related to Geropalliative care.  
AgeWISE Cohort #13 
A new cohort of 18 nurses (Cohort #13) started in January 2018 and will graduate in June. The nurses spend two days per month in classroom seminars and at various community clinical sites. They learn knowledge and skills in Geropalliative care which enhances their confidence and empowers them to provide evidence-based care to older adults and their families.
The following nurses are in this cohort:
4 South 
5 South 
Haley Demaris
Jacquelyn Ryan
Heather Eickhoff
6 North
6 South
Summer Nabity
Stacie Knehans
7 North
7 South
Unita Kham
Taylor Peterson
Holly Brezina
8 North
8 South
Drew Rogers
Tori McElligott
9 South/North
Taylor Johnson
Molly Feichtinger
Breanna Gale
Administrative Coordinator 
Questions?
To learn more about AgeWISE, contact Deborah Conley at @email.