Awards and Achievements
Haiden Brand Is January DAISY Award Winner
Published: Jan. 15, 2018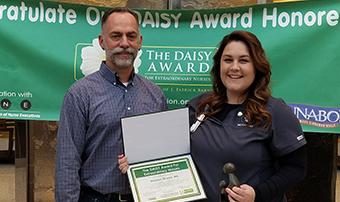 Haiden Brand, BSN, RN, from the Methodist Women's Hospital NICU, was honored at a recognition ceremony on January 12 as the January DAISY Award winner for Methodist Hospital and Methodist Women's Hospital.  
Haiden was nominated not by a patient or patient's family, but by a citizen who was on the receiving end of The Meaning of Care outside of the hospital walls.
Last October, Joe Ducharme was involved in a frightening accident on Interstate 80 that included four cars and a semi. 
"My car was crushed between a semi and the concrete median," Joe wrote to Methodist. "Luckily, I escaped most physical injury."
Once he worked his way out of his vehicle, Joe said he was approached by a woman he later discovered was Haiden. She had worked her way to each car to check on the status of the occupants, and once she knew everyone was safe or had other assistance, she focused on Joe. She pulled her car behind his and allowed him to sit and warm himself in her car – allowing him also to charge his phone and make calls. Haiden kept him company and safe for two hours while the accident scene was processed. When they were finished, she drove Joe home.
"I cannot thank Haiden enough for her time and compassion," wrote Joe in his nomination. "I can only imagine what an awesome NICU nurse she must be. I will never be able to drive up on an accident and not think of how I might be of help to someone else, and that is all thanks to Haiden... I just think the world needs more human beings like her."
---
The DAISY Award is a nationwide program that rewards and celebrates extraordinary skill and compassionate care given by nurses every day. Nurses can be nominated by anyone, including patients, family members, physicians, supervisors or their peers.
To nominate a nurse at Methodist Hospital or Methodist Women's Hospital, visit www.bestcare.org/daisy.