Leadership Updates
Building on Our Strengths
Published: Jan. 8, 2018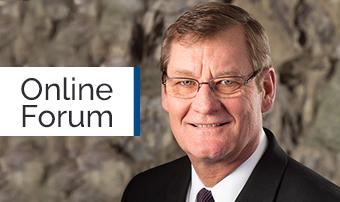 We're All Here for the Care of the Patient
I am both honored and humbled to have been asked to lead Methodist Health System.
I am also very proud — proud of you, the Methodist family. Because Methodist really is a family. I could see that from my first interactions with Methodist years ago, when I was CEO of the community hospital in Harlan, Iowa.
This family feeling is what drew me to Methodist. I've felt it every day of my 13 ½ years at Methodist Hospital and over the past year as Methodist Health System vice president and COO.
But while I pretty much grew up in this business, I didn't set out to run hospitals. Instead of administration, I started on the patient care side.
In high school, I was drawn to math and science, and I especially enjoyed my time in the lab. Then, while still a Creighton University student, I was hired to work and receive on-the-job-training in a hospital lab. I saw for myself how laboratory science connects patients and the physicians who diagnose and treat them. I knew I wanted to work in a hospital.
Everyone Matters
So I become a medical technologist. I worked nights and weekends and pulled on-call. I learned how important everyone is on a hospital staff. Everyone matters, whether you're involved in the medical healing of patients or just being kind, open and helpful.
This caring is essential. We know that most of the people coming to us are either ill or worried about their loved ones. With the possible exception of new parents, the people in our hospitals and clinics are probably not having their best day.
At Methodist, one of our greatest strengths is the personal connection we make with our patients. I'm very proud of the way we care for people and create truly positive experiences. Thank-you notes arrive daily from patients and family members grateful for the above-and-beyond things our people do.
And, I'm proud to say I've personally experienced the caring side of Methodist each time my mom, dad, mother-in-law and other family members have been patients here.
Future Challenges and Continued Success
Our success comes from our high level of personal connection, caring and medical excellence — and by the way we work together as a health SYSTEM.
Systemness has never been more important. As you know, the health care industry continues its shift from volume- to value-based payment. Our payer mix and the financial reimbursement that follows will continue to change as the population ages. Every day, nearly 11,000 baby boomers join the Medicare rolls.
We are under constant pressure to improve quality and outcomes while reducing costs. But we have expected and prepared for this. It is the natural evolution of payment for care, and we will continue to navigate the changing health care landscape together.
We will stay the course and continue to build on our strengths as a health system and a patient-preferred health care organization. This means continuing to eliminate waste while we increase quality and efficiency. This also means forging more and stronger partnerships with physicians and communities.
We have a track record of success in all of these areas because we have the engaged workforce that is the Methodist family. We are all in this together, all playing essential roles in the care of our patients.
I could not be prouder of our outstanding medical staff and employees. Thank you for your caring, collaboration and dedication to the Methodist family and to those we serve.
---
Supervisors, please discuss with your team.
We welcome your feedback. To comment on this Online Forum, send an e-mail to @email or use Employee Connection's "Submit a News Idea" online form.
Forum Feedback messages are forwarded to the appropriate administrator with your name for a direct response, unless you ask to remain anonymous. A sampling of Forum Feedback questions or comments of broad impact to employees may appear in future Online Forums.