Awards and Achievements
Methodist Hospital Cardiovascular Center Opens on 1 South on Jan. 8
Published: Jan. 5, 2018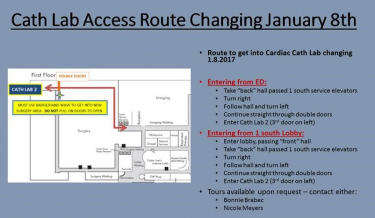 After 17 years of calling 3 South home, the Methodist Hospital cardiovascular diagnostic team will begin providing patient care in its new location on the first floor of the South Tower.
The  Methodist Hospital Cardiovascular Center opens on Monday, Jan. 8, with all invasive and noninvasive cardiac and pulmonary services in one convenient location.
The Cardiovascular Center, located just past the South Tower service elevators, will feature the echo lab, heart station, vascular lab, neurodiagnostics, pulmonary lab, physician work areas, staff offices and consultation rooms. The new Center also offers quick access to the new cath labs located in the recently renovated and expanded surgical suites.
For tours or more information, contact Bonnie Brabec or Nicole Meyers.
Cardiac Rehab will continue to be located on 3 South.
See map below for the new cath lab access route, effective January 8: