News and Events
Help MJE Reach 100% Participation: Turn in Your Caring Campaign Pledge Card by Dec. 31 
Published: Dec. 20, 2017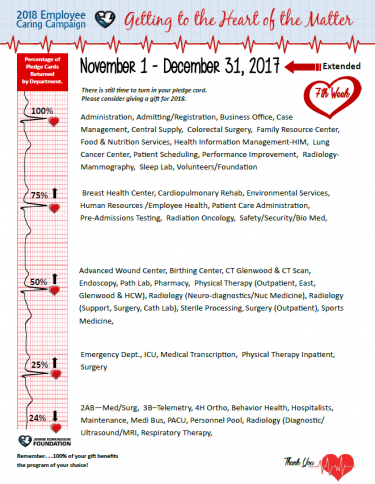 There Is Still Time to Give
Thank you for your support. More than 50% of Methodist Jennie Edmundson employees have turned in their pledge cards, and there is still time to give to the Jennie Edmundson Foundation 2018 Employee Caring Campaign, "Getting to the Heart of the Matter."
Help us reach 100% participation! Turn in your pledge card by Dec. 31, 2017. 
---
Remember that employees' gifts -- in any amount -- will support excellent patient care and the projects and programs at Methodist Jennie Edmundson Hospital and show our community that employees believe in the important work our Jennie Family does.
Thank you for your support! Learn more at jehfoundation.org.