Leadership Updates
A Farewell and Thank-You to the Methodist Family
Published: Dec. 15, 2017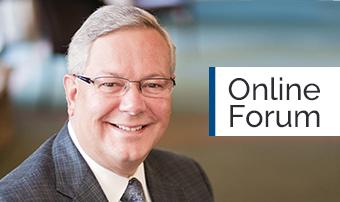 Smooth MHS Leadership Transition Continues
As 2017 draws to a close, so does my time at the helm of Methodist Health System.
For the past 26 years, it has been my profound privilege and honor to be a member of the Methodist family — and to have the opportunity to lead such a great organization with such a great staff.
From the moment I arrived, I could see that Methodist is a truly special place, with special people who live a one-of-a-kind culture of caring. The greatest strengths of an organization are its people and its culture. Methodist has the best of both.
For me, it has been especially fulfilling to have the opportunity to maintain and strengthen this culture, first within Methodist Hospital, and then, since 2007, throughout Methodist Health System.
Methodist's culture is second to none. Here we put the patient first with our competence, compassion and caring. The strength and depth of the Methodist culture, collaborative teamwork and uniquely strong relationship with our talented medical staff — these are the hallmarks of excellence that set us apart and make Methodist's success possible.
Together, we have faced perhaps the most dramatic change in health care: the beginning of the shift from volume-based to value-based care. I am incredibly proud of the way Methodist's management, medical staff and employees continue to rise to meet this ongoing challenge. Methodist is successfully navigating a 180-degree reversal in our financial incentives while achieving excellent clinical outcomes and continuously improving these outcomes.
Methodist will remain a great place to give and receive care, a great place to make a lasting difference.  The work and the successes will continue, but now with another leader at the helm.
It is with great pleasure that I announce the Methodist Health System Board of Directors has named Stephen L. Goeser as the new President and CEO of Methodist Health System, effective January 1, 2018. As you know, Steve is Methodist Hospital President and CEO as well as Methodist Health System Executive Vice President and Chief Operating Officer.
I have every confidence in Steve, a positive and effective leader who knows Methodist and has a proven track record of success. I hired Steve in 2004 as a Methodist Hospital Vice President, and I admire the way he has helped to strengthen the fabric of our culture. This is a carefully planned and seamless leadership transition.
Now the time has come for me to say farewell and thank you.
Thank you for your contributions and service. Thank you for your dedication and teamwork. Thank you for making Methodist The Meaning of Care.
Thank you also for your good wishes as Debbie and I embark on the next phase in our lives. We look forward to more travel, time with grandchildren and continued involvement in the Omaha community.
We are forever grateful and honored to be members of the Methodist family.
* * * * *
Editor's Note: See the Omaha-World Herald story that published on December 4:  "Retiring Methodist CEO sees 'a time of revolution and evolution in health care,' calls it 'necessary and appropriate.'"
---
Supervisors, please discuss with your team.
We welcome your feedback. To comment on this Online Forum, send an e-mail to @email or use Employee Connection's "Submit a News Idea" online form.
Your Forum Feedback messages are forwarded to the appropriate administrator with your name for a direct response, unless you ask to remain anonymous. A sampling of Forum Feedback questions or comments of broad impact to employees may appear in future Online Forums.