Awards and Achievements
Marcy Heim Is December DAISY Award Winner
Published: Dec. 12, 2017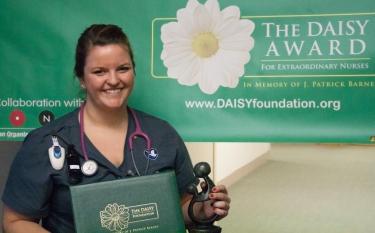 Marcy Heim, BSN, RN, from 5 South/Short Stay, was honored at a recognition ceremony on December 11 as the December DAISY Award winner for Methodist Hospital and Methodist Women's Hospital.
Marcy was nominated by a patient who spoke from years of experience on the nursing side of the bedrails.
In complimenting Marcy's nursing skills, the patient wrote, "Marcy treated this retired nurse with dignity and care. She displays excellence in her cares with safety and the giving of medications. I felt that she was focused on me and not rushed when caring for my needs. She addressed pain and comfort. She would ask if there was anything I needed before she left my room. She demonstrated excellence in delegation and prompt follow-up when necessary."
The patient was especially impressed by Marcy's warmth and kindness, patient-centered focus and ability to continually go above and beyond, explaining, "I can tell that this is not just a job to her. That it is her mission to care for the sick and give excellent care to those whom she serves and the family at the bedside."
What did this grateful patient most want to tell Marcy?
"Thank you for your excellent care," the patient wrote. "I felt like one of your family members."
---
The DAISY Award is a nationwide program that rewards and celebrates extraordinary skill and compassionate care given by nurses every day. Nurses can be nominated by anyone, including patients, family members, physicians, supervisors or their peers.
To nominate a nurse at Methodist Hospital or Methodist Women's Hospital, visit www.bestcare.org/daisy.