Awards and Achievements
BestcareToday.com Launches: Do You Have a Story to Share?
Published: Nov. 21, 2017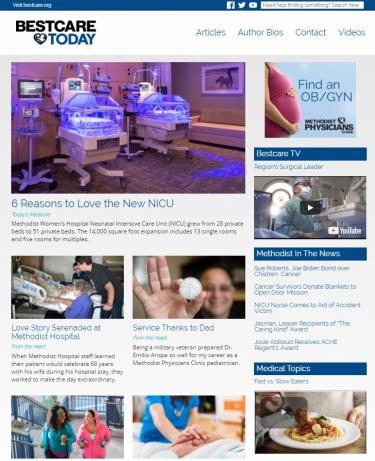 Explore our new BestcareToday.com website for the latest stories, photos and videos about The Meaning of Care throughout Methodist Health System, as well as syndicated health news and information. 
Original MHS Stories
On BestcareToday, you'll see an emphasis on storytelling in words and images. Here you'll find original stories about our patients, providers, compassionate care and medical excellence. 
You'll also find Methodist in the News, see Bestcare TV videos from our Methodist YouTube channel and meet the authors of our BestcareToday stories. 
New content posts throughout the day, so check back often, and watch for links to selected BestcareToday postings in the weekly "Latest MHS News" email from Editor.
Most important, please help us add new stories to BestcareToday!
Do You Have a Story to Share? 
We're featuring original stories about what makes Methodist special: Stories that honor our amazing patients, families, physicians and employees. Stories of challenge and success. Stories about who we are, what we do and why we care so much. Stories by, from and about the Methodist family.
The MHS Marketing Department puts this content online. Doing so takes Marketing's team of talented photographers, videographers, writers, editors, account managers and digital/web experts — as well as guest authors and great story leads.
Some stories come to us directly from patients and family members who send in comments and kudos to bestcare.org or notify MHS administrators. But we can't begin to tell enough Methodist stories without your help. We need those who deliver care and service to be watching for story opportunities and alerting us.  
Send Story Ideas to MHS Marketing
Email MHS Marketing at @email or leave a voicemail on the MHS Marketing hotline at (402) 354-2300.
Of course, we must all follow HIPAA privacy regulations. Remember that patient permission is required before releasing any identifying information to MHS Marketing staff.  
---
HealthDay Content
In addition to Methodist's original content, BestcareToday features exciting new content from HealthDay, the leading U.S. provider of health news and health videos on the Internet. 
Our HealthDay content includes Consumer Health News, a newsfeed of 15+ health articles a day; new daily videos on HealthDay TV and HealthDay Living; and a Wellness Library of 1,500+ health and medical articles, disease prevention tips, self-care instructions, quizzes, step-by-step guides and special reports.
This HealthDay content is another helpful resource for consumers, patients, providers and employees.