Awards and Achievements
Catherine Enenbach Is November DAISY Award Winner
Published: Nov. 11, 2017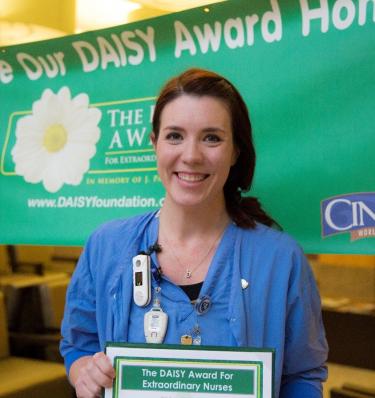 Catherine Enenbach, BSN, RN, from Labor & Delivery at MWH, was honored at a recognition ceremony on November 10 as the November DAISY Award winner for Methodist Hospital and Methodist Women's Hospital.
Catherine was nominated by a new father, who wrote a lengthy thank-you to Catherine following the birth of his son at Methodist Women's Hospital. The father wrote of "the feelings, emotions and wonder" he and his wife experienced in becoming parents, and the special level of caring Catherine played in their child's birth. 
In thanking Catherine, the father wrote:
"Right from the start you were amazing and everything two scared, first-time parents could have hoped for. You guided us every step of the way, kept us calm when we felt like freaking out and assured us that we were going to be fine.
"It seems like the doctors get all the credit, and they certainly contribute a lot, but nurses such as yourself are the ones doing most of the work. Doctors swoop in at the end, but you're there constantly. That day was probably typical for you, but to us you were a Godsend. We probably weren't the easiest to work with, but you were unfailingly patient and kind to us. You made us feel like we were your whole world, and for that we are eternally grateful.
"To say 'thank you' is appropriate, but feels wholly inadequate to express how we truly feel. But words are all I have, so here it goes.
"Thank you for being patient. Thank you for being kind. Thank you for being understanding, Thank you for being calm. Thank you for being helpful. Thank you for being gentle. Thank you for taking the time to make us comfortable. Thank you for putting us at ease. Thank you for reassuring us. Thank you for being there when two first-time, scared, soon-to-be-parents walked in. Thank you for being you. Thank you for keeping my wife safe. Thank you for giving me my son.
"While we don't know you, we knew your heart, and it is a heart of love, compassion and caring. Someday we hope to have another child, and God willing, we hope you are there with us again.
"Forever thankful, forever in your debt."
---
The DAISY Award is a nationwide program that rewards and celebrates extraordinary skill and compassionate care given by nurses every day. Nurses can be nominated by anyone, including patients, family members, physicians, supervisors or their peers.
To nominate a nurse at Methodist Hospital or Methodist Women's Hospital, visit www.bestcare.org/daisy.