Awards and Achievements
Josie Abboud Receives ACHE Regent's Award
Published: Nov. 7, 2017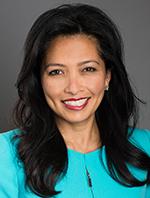 Josie Abboud, executive vice president and chief operating officer of Methodist Hospital, received the American College of Healthcare Executives (ACHE) Senior-Level Healthcare Executive Regent's Award at the Nebraska Hospital Association's annual meeting.
The Senior-Level Healthcare Executive Regent's Award recognizes ACHE members who are experienced in the field and have made significant contributions to the advancement of healthcare management excellence and the achievement of ACHE's goals.
Members are evaluated on leadership ability; innovative and creative management; executive capability in developing their own organization and promoting its growth and stature in the community; contributions to the development of others in the healthcare profession; leadership in local, state or provincial hospital and health association activities; participation in civic/community activities and projects; participation in ACHE activities; and interest in assisting ACHE in achieving its objectives.
Abboud joined Methodist Hospital as a critical care staff nurse in 1996. Since then she has held numerous leadership positions throughout the organization and was instrumental in the growth, development and expansion of many programs and services.
In 2008, she was named vice president of ancillary and clinical support services with responsibility for imaging, laboratory, pharmacy, hospital-based clinics, professional contract management, Methodist Estabrook Cancer Center and the oncology service line. In 2016, Abboud was promoted to executive vice president and chief operating officer. Her responsibilities expanded to include all of Methodist Hospital and Methodist Women's Hospital. 
Abboud has been previously recognized as one of Midlands Business Journal's "40 under 40" and "Woman of Distinction" for her demonstrated leadership. She is an active community leader and currently serves on the boards of the local American Cancer Society, Creighton University's College of Nursing Advisory Board, Creighton Prep's Board of Trustees, Christ the King's Educational Steering Committee and the Archbishop's Committee for Development. 
She has previously served on the boards of the High Plains Division Board of the American Cancer Society, Visiting Nurses Association, NE GOP Business Group, Juvenile Diabetes Research Foundation, Leukemia & Lymphoma Society, United Way's 2013 Campaign, Community Health Charities, Child Savings Institute and Junior League of Omaha.