Awards and Achievements
Congratulations to the MHS Nurse Residency Program Graduates
Published: Oct. 25, 2017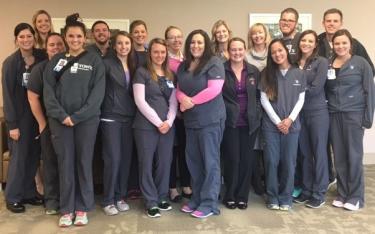 Congratulations to the nurses of Cohort #19 who graduated from the MHS Nurse Residency Program on October 12, 2017. 
The program assists new graduates with transitioning into their professional role. Graduates completed 12 months of learning focused on critical thinking, patient safety, leadership and communication skills, evidence-based practice and professional development.
Nurse Residents, back row from left: Brittany Peterson, Jake Faust, Jill Perry, Karly Skipton, Jennifer Hanson, Angela Spence, Matt Sobczyk, Eric Williamson.
Nurse Residents, front row from left: Ally Kubat, Molly Feichtinger, Jessica Tarsikes, Tori Piercy, Caitlin Peters, Michelle DeSimone, Amber Mathis, Kimmi Lum, Audra Altman, Kaitlyn Tomasek.