Awards and Achievements
Congratulations to Recent Graduates
Published: Oct. 19, 2017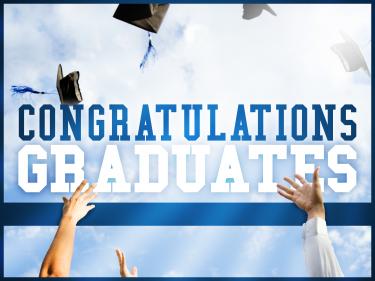 Kudos to MHS Staff for Enhanced Education
Congratulations go to the following MHS staff members who recently completed educational degrees. 
Committing to the continued enhancement of professional education is one of the ways we live The Meaning of Care. Knowledge gained through attainment of undergraduate and graduate degrees strengthens the individual and our organization as a whole, empowering staff to raise the bar ever higher on the delivery of patient care and service.
The following list represents MHS employees' "Professional Data" updates submitted to Human Resources through Lawson Employee Self Service July 1 - September 30, 2017. Please note that the list includes employees who earned a degree in the quarter shown OR who input a degree in the quarter shown and earned it in the previous quarter. Watch for the quarterly posting of new graduates on Employee Connections.
 
Methodist Hospital        
Associate's Degree, General Science
Tracy Graber, Surgery OP Support HW
Bachelor's Degree, Healthcare Management
Theresia Dixon, Short Stay
Bachelor's Degree, Nursing
Callie Fuhs, Progressive Care
Kristin Lange, Critical Care
Melissa Mollner, Critical Care
Whitney Spicka, Cardiac Unit
Reileigh Stewart, Acute Care for Elders (ACE)
Shelby Todd, Acute Care for Elders (ACE)
Doctorate, Nurse Practitioner
Kimberly Bland, Palliative Care
Methodist Jennie Edmundson Hospital
Bachelor's Degree, Nursing
Angie Newman, Behavioral Health Psych
Master's Degree, Business Administration
Antonio Luo, Pharmacy
Doctorate, Pharmacology
Antonio Luo, Pharmacy
Methodist Physicians Clinic     
Bachelor's Degree, Nursing
Tina Bittner, Heart Consultants  
Vocational School Graduate, Medical Assistant
Brittany Klabunde, Health West Pediatrics
Methodist Women's Hospital   
Bachelor's Degree, Nursing
Lydia Acosta, Labor Delivery 
Ashley Gregory, NICU
---
REMINDER: Submit new degrees earned through Employee Self Service.
If you need help accessing Employee Self Service through the Lawson login on mhsintranet, call the IT Service Desk at 402-354-2280.