News and Events
Caring Campaign: ANOTHER RECORD-BREAKING YEAR! Mr. Goeser, What Is Your Favorite Pie? 
Published: Oct. 4, 2017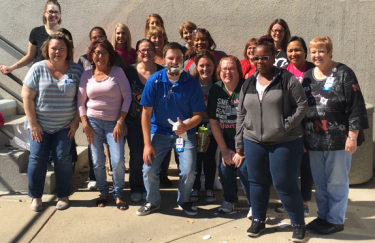 UPDATE: Last day to donate is now Friday, Oct. 6! 
The 2018 Caring Campaign has hit 83% participation, topping last year's 82%. The national average is only 33%.
Methodist employees like you and the Outpatient Coding team shown above made this happen! THANK YOU for going above and beyond during the campaign. Your efforts are helping so many people.
STILL TIME TO REACH 100%: We will include any pledge form received by Friday, October 6, in your department's participation count.
Making a Caring Campaign contribution is easy. To donate online, click here.
Details Coming Soon: Mr. Goeser's Face Meets Pie
As promised, Steve Goeser, MHS Executive Vice President & COO, Methodist Hospital President & CEO, will take a pie in the face for Methodist's 83% participation.
Details will be coming soon.
TIME TO CELEBRATE
When we say celebration — you say CUPCAKES!
To show our appreciation, we will be handing out cupcakes on Wednesday, October 18.
CUPCAKE SCHEDULE: WEDNESDAY, OCTOBER 18
Women's Hospital Cafeteria  
6:30 AM to 8:30 AM
2 PM to 4 PM
Methodist Hospital Cafeteria
6:30 AM to 8:30 AM
2 PM to 4 PM
MHS Corporate Cafeteria
We will deliver to Methodist Physician Clinics.
CUPCAKE SCHEDULE: NIGHTIME DELIVERIES
We will also be making nighttime deliveries to Methodist Hospital and Methodist Women's Hospital on:
Saturday, October 14
Tuesday, October 17                          
Thank you for your support!