Awards and Achievements
The Meaning of Care Magazine: Read the Fall 2017 Issue
Published: Sept. 26, 2017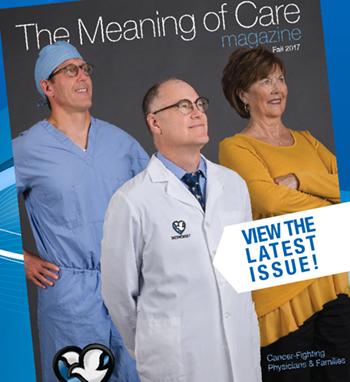 The Meaning of Care magazine tells stories of Methodist's outstanding care and medical innovation in print and video. The Fall 2017 issue focuses on cancer care at Methodist. 
Included in the Fall 2017 issue:
Mom Finds Her Voice Against Cancer

Cancer Clinical Trials at Methodist: PARP Inhibitors Offer New Hope in the Battle Against Ovarian Cancer

Coming Soon: Mobile Mammography
The magazine, produced by the Methodist Health System Marketing Department, was just released and will soon be distributed at all MHS affiliates.
To read the Fall 2017 issue, click HERE.
The home page for The Meaning of Care magazine is bestcare.org/tmoc. 
 
Watch the Videos, See More Stories & Blogs
Love & Legacy: Heather & Sue Roberts
Leap-for-a-Cure co-founder Sue Roberts speaks about her daughter Heather's brain cancer battle and part of her legacy: Methodist's new aquatic therapy pool, opening at Methodist HealthWest in October 2017. For the video, click HERE. A related story will post to The Meaning of Care blog on October 2.
Finding Her Voice Against Cancer
Thyroid cancer survivor Liz Pettinger shares the challenges of her journey back to health. For the video, click HERE. Watch for a related story to post to The Meaning of Care blog. 
See Expanded Coverage on Bestcare.org/Stories: Ovarian Cancer Clinical Trials Offer New Hope
Six years ago, Judi Carter of Falls City was stunned to learn she had advanced ovarian cancer. Judi's doctor immediately referred her to Peter Morris, MD, one of the four fellowship-trained gynecologic oncologists at Methodist Estabrook Cancer Center. More women receive gynecologic oncology care here than at any other facility in the region. Read more about Judi's story HERE.
---
To see these and other Methodist stories about living The Meaning of Care, visit bestcare.org/stories and tmoc.mhsblogs.com/blogs.