Awards and Achievements
September DAISY Team Award Winner: 8N Ortho/Neuro
Published: Sept. 22, 2017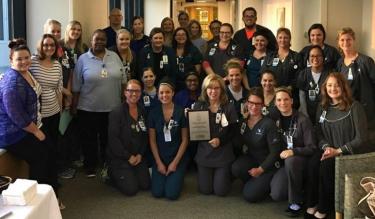 Methodist Hospital's 8 North Ortho/Neuro Team was honored at a recognition ceremony on Thursday, September 21, as the DAISY Team Award winner for Methodist Hospital and Methodist Women's Hospital.
The nominator praised all 8 North staff — including the RNs, CNAs, Care Coordinator, Social Work, Physical Therapy, Occupational Therapy and Pharmacy — for going above and beyond for a patient nearing the end of life.  
During the patient's month-long stay on the unit, staff worked to brighten his down days by singing to him or bringing his favorite treats, including donuts and peanut butter cupcakes.
Therapy staff quickly learned his therapy goal and deepest wish: "to go fishing." Working together, the 8 North staff gave their patient the gift of one last fishing trip.
Staff arranged for a physical therapist to drive the wheelchair van on the special outing. An occupational therapist and nurse accompanied the patient to a local lake where his family had gathered to surprise him with fishing equipment and a celebratory picnic lunch. At the exact spot where he used to stop to fish at the end of each workday, the patient fished and reminisced about the past, describing in detail the types of bait he'd once used.
The tearful patient, overwhelmed by emotion, told family and staff how thankful he was to be able to go fishing again.  
"The 8 North staff is always going above and beyond for their patients," the nominator wrote. "This is just one of many examples of 8 North trying to help uplift a patient during a difficult time."
Two days later, the patient's status declined greatly. He was transferred to another facility on hospice care. As he left 8 North, the staff lined the hallways to say goodbye to him and his family. Notification came days later that the patient had passed away. 
---
The DAISY Award is a nationwide program that rewards and celebrates extraordinary skill and compassionate care given by nurses every day. Nurses can be nominated by anyone, including patients, family members, physicians, supervisors or their peers.
To nominate a nurse at Methodist Hospital or Methodist Women's Hospital, visit www.bestcare.org/daisy.