Awards and Achievements
Madison Cooper Is September DAISY Award Winner
Published: Sept. 19, 2017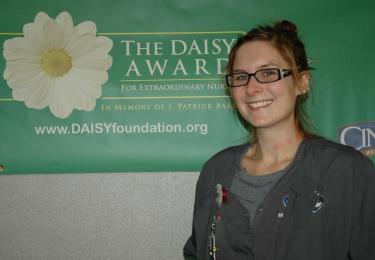 Madison Cooper, BSN, CCRN, from Methodist Hospital's Critical Care Unit, was honored at a recognition ceremony on September 19 as the September DAISY Award winner for Methodist Hospital and Methodist Women's Hospital.
She was nominated by a patient's daughter, who is a nurse and a member of the Methodist leadership team. The daughter described her father, a World War II veteran, as "a man who lived his life to the fullest and wanted to die with dignity and grace."
The daughter described in detail her gratitude for the special care Madison provided throughout her father's last day of life. 
"When Madison walked into his room that morning, I knew there was something extremely special about her!" the daughter wrote. " I wish my dad could have had a conversation with her because I know he would have liked her so much, but I know he felt her presence and could hear her calming and kind voice. She took care of him and talked to him as though she knew him for years. She was so genuine."
The daughter said she cherished the kindness, respect and attention to detail Madison showed in caring for her father.
"When she came out of his room after giving him morning cares and told me she had shaved him because she could tell he was a clean-shaven man, she gave me a memory I will never ever forget, and that is he had a nurse who would help him die unafraid," the daughter wrote. "I cannot thank her enough for helping him have his wish: the wish for a peaceful death."
The daughter emphasized that Madison provided exceptional care not only to her father, the Critical Care patient, but to her as a family member. 
"I also want to thank Madison for caring for me," the daughter wrote. "She knew I was extremely tired and did not know what to expect that day. She spent time telling me how to help him know it was OK to leave this world. She gave me the book "Gone from My Sight" and made sure I had coffee. She treated me as his daughter. That meant so much to me. She has a true gift of showing compassion and caring. I saw and felt this every moment she cared for my father. I saw how hard she worked to make him comfortable in his last few hours.
"There has always been this saying amongst nurses: Care for your patients as though they are your own family. Madison truly took care of my father as though he was her grandfather. I found peace with my father's death because of her.
"I will never forget her. Methodist is so fortunate to have Madison as one of our nurses. Thank you from the bottom of my heart."
---
The DAISY Award is a nationwide program that rewards and celebrates extraordinary skill and compassionate care given by nurses every day. Nurses can be nominated by anyone, including patients, family members, physicians, supervisors or their peers.
To nominate a nurse at Methodist Hospital or Methodist Women's Hospital, visit www.bestcare.org/daisy.