Awards and Achievements
Congratulations to the MHS Nurse Residency Program Graduates
Published: Aug. 8, 2017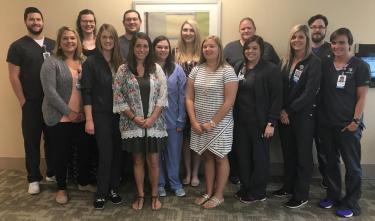 Congratulations to the Cohort #18 nurses who graduated from the MHS Nurse Residency Program on August 3.
The program assists new graduates with transitioning into their professional role. Graduates completed 12 months of learning focused on critical thinking, patient safety, leadership and communication skills, evidence-based practice and professional development.
Nurse Residents, top row from left: Nolan Peterson, Jennifer McGill, AJ Santon, Heather Enzor, Melissa Smith, John Gobel.
Nurse Residents, front row from left: Christy Dai, Ashleigh Flack, Ashley Hughes, Abbey Schlichte, Kailyn Van Soelen, Sarah Cherubin, Kaylen Swanson, Meleia Oestmann.
Not pictured: Joslyn Brugh, Jona Kerschner, Seth Williams.