Awards and Achievements
21 AgeWISE Nurses Graduated in June, Cohort #12 Started in July
Published: Aug. 8, 2017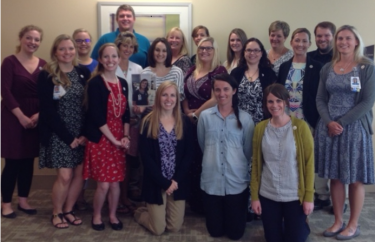 Twenty-one nurses representing 13 nursing units/departments graduated from the AgeWISE Geropalliative Care Nurse Residency Program at Methodist Hospital on June 20.
These recent AgeWISE graduates (Cohort #11) will sit for certification in either Gerontological Nursing or Hospice and Palliative Care Nursing, or in their unit specialty as an outcome of the nurse residency:
Katy Bonham     
Kelli Briggs    
Ryan Carnahan     
Nicole Cox     
Becky Crafton    
Ashleigh Flack     
Allyson Fortenberry     
Becky Hollman     
Claire Jackson     
Kelly Menousek
Alex Moore
Shelby Owens
Amy Parr
Terri Perry
Carrie Phillips
Jodi Reese
Corey Shepler
Mandy Stockdale
Karen Tesina
Stephanie Thompson
Deirdre Walsh
About AgeWISE
AgeWISE promotes the crucial role nurses play in enhancing the hospital experience for older patients and their families. Methodist now has over 200 AgeWISE nurses on staff infusing Geropalliative care nursing principles throughout the hospitals. 
Methodist continues to be a national leader in AgeWISE and has graduated more AgeWISE nurses than any of the original six pilot hospitals selected in 2010.
This program is a collaboration between the hospital and our Department of Nursing at Nebraska Methodist College. AgeWISE nurses report gaining enhanced knowledge in Geropalliative care to provide more specific and sensitive care to their patients, as well as a sense of empowerment and increased confidence when having difficult conversations with patients, families, and physicians related to Geropalliative care.  
AgeWISE Cohort #12 
A new cohort of 19 nurses (Cohort #12) started in July 2017. The nurses spend two days per month in classroom seminars and at various community clinical sites. They learn knowledge and skills in Geropalliative care which enhances their confidence and empowers them to provide evidence-based care to older adults and their families.
The following nurses are in this cohort:
4 South
Abbie Loehr
Heather Dostal
5 South
Justine Cox
Megan Burdess
6 North
Bekah Edington
6 South
Chelsea Smith
Sarah Noordam
7 South
Kristin Nboda
Jessica Redlinger
Ashely Ernst
8 North
Maria Mencke-Teager
Brianna Washka
8 South
Sarah Fietz
Anne Thallas
9 South/North
Holly Darrington
Tim Hoarty
Lindsay Temme
MH/WH ED
Chelsea Craig
Jessica Bickler
Upcoming Geriatric Education
To empower nurses and interprofessional staff to learn and implement best practices in Geropalliative care, a quarterly CEU program called AGES (AgeWISE Geriatric Education Seminars) is available through Nebraska Methodist College Professional Development. The upcoming session is on October 10. 
To register or for more information on geriatric education programs, go to http://web.methodistcollege.edu/professional-development
Questions?
To learn more about AgeWISE, contact Deborah Conley at @email.