Awards and Achievements
Lisa Holmstedt Is August DAISY Award Winner
Published: Aug. 7, 2017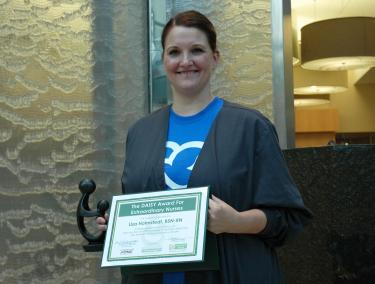 Lisa Holmstedt, BSN, RN, from the Neonatal Intensive Care Unit, was honored at a recognition ceremony on August 7 as the August DAISY Award winner for Methodist Hospital and Methodist Women's Hospital.
She was nominated by a NICU mom whose child was has been in NICU for more than 70 days.
"From day one," the mother wrote, "Lisa has been kind, understanding, supportive, and always manages to make us smile. Everyone has been amazing, but Lisa goes above and beyond."
The mom described Lisa's expert, tender and thoughtful care throughout a major milestone: the baby's first bath at two weeks and barely two pounds.
"Not only did she achieve this safely, she also made sure I was right there by her side, and she let me help in any way possible. This was such a special moment to me as a first-time mom; I will treasure this memory for the rest of my life. Lisa became one of our consistent nurses, and I will never forget how Lisa has made me feel through this time in my life. She is an exceptional nurse who exemplifies The Meaning of Care!"
---
The DAISY Award is a nationwide program that rewards and celebrates extraordinary skill and compassionate care given by nurses every day. Nurses can be nominated by anyone, including patients, family members, physicians, supervisors or their peers.
To nominate a nurse at Methodist Hospital or Methodist Women's Hospital, visit www.bestcare.org/daisy.