Awards and Achievements
Maureen Shea Is June DAISY Award Winner
Published: June 20, 2017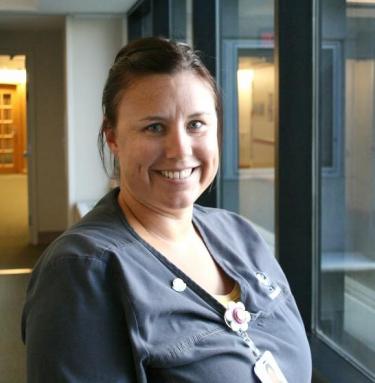 Maureen Shea, BSN, RN, from Methodist Hospital's Medical/Surgical Unit, was honored at a recognition ceremony on June 20 as the June DAISY Award winner for Methodist Hospital and Methodist Women's Hospital.
Maureen was nominated for the honor by a patient's husband who described Maureen as "a walking angel."
"She is so amazing," the husband wrote, "very professional, smart and intelligent with an awesome attitude."
He shared that in addition to their worries over his wife's health issues, the couple faced great financial difficulties. 
"We were at a point in our lives where things were really rough," the husband wrote. "I was so embarrassed that I didn't have any money to eat."
Maureen stepped forward to help. 
"She took me to the cafeteria and spent her own money and bought me breakfast," the husband wrote. "That's right! Out of her own pocket. She didn't even know me."
He wrote that despite the current hardships, "when Maureen is present among us, hope is there. Thank you for having her here at Methodist."
---
The DAISY Award is a nationwide program that rewards and celebrates extraordinary skill and compassionate care given by nurses every day. Nurses can be nominated by anyone, including patients, family members, physicians, supervisors or their peers.
To nominate a nurse at Methodist Hospital or Methodist Women's Hospital, visit www.bestcare.org/daisy.