Awards and Achievements
Chelsea Craig Receives ESGR Patriot Award
Published: May 19, 2017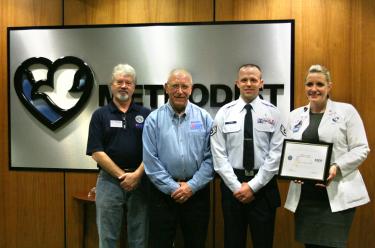 Methodist Hospital Emergency Department Service Leader Chelsea Craig was presented with the ESGR Patriot Award at a special ceremony at Methodist Hospital on May 19. 
Chelsea was nominated for the award by Methodist Hospital Emergency Department Care Technician Jonathan Zgainer. Jonathan has been a member of the National Guard for six years and a Methodist employee for four years.
In the nomination, Jonathan described the military deployments and short-notice orders that took him away from his work in the Methodist Hospital E.D. as well as the unwavering support he has received from his supervisor, Chelsea Craig.
Jonathan wrote, "I have never had a better supervisor or boss. She understands the sacrifices I make, and from many stories I have heard from other Airmen I work with, that is not always the case with civilian employers. Because of all she has done, I wanted to do something for her. While it is small, I want her to know it means the world that she has my back. This is the culture that surrounds Methodist Health System and the support it gives to all its military employees."
The ESGR Patriot Award reflects the efforts made to support citizen warriors through a wide range of measures including flexible schedules, time off prior to and after deployment, caring for families, and granting leaves of absence, if needed. The ESGR presents Patriot Awards at only about a dozen businesses in the area each year. 
For ESCR's coverage of the Patriot Award presentation at Methodist Hospital, click here. 
About ESGR
Employer Support of the Guard and Reserve (ESGR), a Department of Defense program, was established in 1972 to foster a culture in which all employers support and value the employment and military service of members of the National Guard and Reserve in the United States. These citizen warriors could not defend and protect us at home and abroad without the continued promise of meaningful civilian employment for themselves and their families.
ESGR is supported by a network of more than 4,500 volunteers in 54 committees located across all 50 states, the District of Columbia, Guam-CNMI (Commonwealth of the Northern Mariana Islands), Puerto Rico, and the U.S. Virgin Islands. Volunteers, hailing from small business and industry, government, education, and prior military service bring a vast wealth of experience to assist in serving employers, Service members, and their families. Together with Headquarters ESGR staff and a small cadre of support staff for each State Committee, volunteers work to promote and enhance employer support for military service in the Guard and Reserve.