Awards and Achievements
Susan G. Komen Names Stephen Zubrod a Pink Tie Guy
Published: April 26, 2017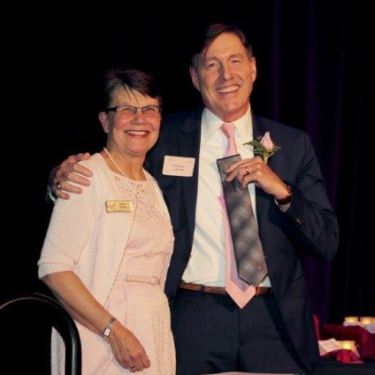 MHS Corporate Vice President and Chief Marketing Officer Stephen Zubrod was named a 2017 "Pink Tie Guy" at the Susan G. Komen Great Plains Pink Ribbon Affair fundraiser held April 22 at the Blackstone Ballroom.
Komen Great Plains CEO Karen Daneu presented the award, honoring Zubrod as a champion of the underserved and of Komen, noting he promotes the best in people as well as new and innovative ways to deliver health care.
Daneu also recognized Zubrod as someone uniquely well-versed in cancer, its treatment and impact. His father, Gordon Zubrod, was an American oncologist who played a prominent role in the introduction of chemotherapy for cancer treatment at the National Cancer Institute at the National Institute of Health. 
The more than 225 attendees of the Pink Ribbon Affair raised $125,000 to fund community-based programs that provide breast health education, as well as breast cancer screening and survivor support services for those most at risk and most in need.
The other 2017 Komen Great Plains Pink Tie Guys were Mickey Anderson of Baxter Auto Group and Kirk Kellner of Wells Fargo.