Awards and Achievements
Meet Four Methodist Nurses in The Meaning of Care Magazine Video
Published: April 19, 2017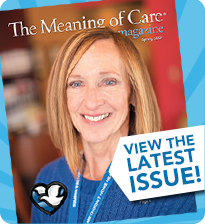 The Meaning of Care magazine, produced by the Methodist Health System Marketing Department, tells stories of Methodist's outstanding care and medical innovation in print and video.
In this short video, four nurses explain the call to caring that inspired each to choose nursing:
Jocelyn Araujo, BSN, RN/BC, Methodist Hospital Cardiac Unit
Stacey Crom, BSN, RN, Methodist Women's Hospital NICU
Chris Harris, BSN, RN, Methodist Hospital Cardiac Unit
Kyoko McFadden, BSN, RN, Nurse Navigator, Methodist Physicians Clinic Heart Consultants
Read the Magazine
The Spring 2017 issue of magazine was just released and will soon be distributed at all MHS affiliates. To read the issue online, click HERE.
The home page for The Meaning of Care Magazine is bestcare.org/tmoc. 
More Video
For another video accompanying the magazine, a story of compassion and laughter in dealing with the end-of-life journey, click HERE.
More Stories & Blogs
To see these and other Methodist stories about living The Meaning of Care, visit bestcare.org/stories and tmoc.mhsblogs.com.