Awards and Achievements
Katie Schmaderer Is April DAISY Award Winner
Published: April 12, 2017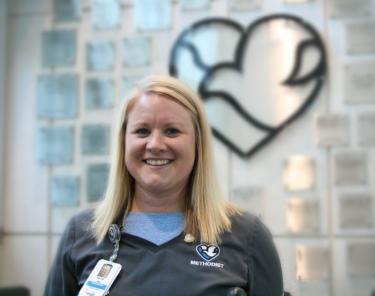 Katie Schmaderer, BSN, RN, from the Head and Neck Surgical Oncology Clinic, was honored at a recognition ceremony on April 11 as the April DAISY Award winner for Methodist Hospital and Methodist Women's Hospital.
Katie was nominated for the honor by a patient who described herself as frightened by her diagnosis, full of questions and deeply appreciative of Katie's care as the cancer journey continues.
"Throughout all of my questions and visits to the office, Katie was always very reassuring," the patient wrote. "I had several complications after my surgery, and Katie answered every call or called me back soon. Even if it was a Friday at 5:45 p.m., she called me back before the weekend with answers to my questions. She walked me through solutions, and if she was unsure of an answer, she always reached out to my oncologist. Many times I was literally crying to her. I didn't feel good. I was scared and anxious. But she understood and made it all feel more normal."
After a re-hospitalization was required due to the patient's decreasing calcium levels, every new blood draw became a cause for hope or disappointment. 
"When my numbers were finally stable, I could tell that Katie couldn't wait to call me, and we cheered together over the phone. She shared in my joy!"  the patient wrote.
"Katie exemplifies the meaning of care because she DOES care. I trust her and honestly feel like I am her only patient," the patient wrote. "Due to the nature of my cancer, I will be getting checked for the rest of my life. So as long as Katie is there, I'll be seeing her. Thank you, Katie!"
---
The DAISY Award is a nationwide program that rewards and celebrates extraordinary skill and compassionate care given by nurses every day. Nurses can be nominated by anyone, including patients, family members, physicians, supervisors or their peers.
To nominate a nurse at Methodist Hospital or Methodist Women's Hospital, visit www.bestcare.org/daisy.