Awards and Achievements
Consumer Reports: Methodist Hospital Cardiac Surgery Among Nation's Best
Published: April 12, 2017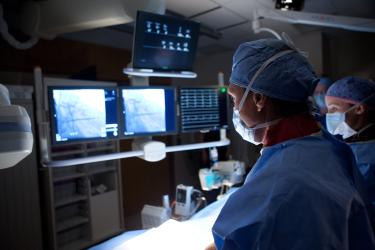 When it comes to heart surgery in the Midwest, Methodist Hospital ranks among the best, according to recently released Consumer Reports data.
Methodist was one of only 13 hospitals in the Midwest, and the only hospital in Omaha, recognized for their excellence in overall heart bypass, with a rating of better than expected. Methodist also received high marks for patients receiving all four of the recommended medications associated with bypass surgery. 
"We are certainly very proud of the cardiac care we provide at Methodist Hospital," said Steve Goeser, Methodist Health System executive vice president and chief operating officer. "Our surgeons and the other members of our medical team are exceptional. The data proves that, as does this recent acknowledgment from a well-respected publication."
In three additional categories related to bypass surgery, data indicated that Methodist, the regional leader in surgeries, performed as expected. Those areas included patient survival, absence of complications and optimal surgical technique.
Another cardiac area reviewed for the report was aortic valve replacement surgery, in which Methodist performed as expected in all categories.
These Consumer Reports ratings were derived from data submitted by hospitals to The Society of Thoracic Surgeons. The ratings are based on data from the medical records of patients, considered the "gold standard" for quality measurement.
The methods used to derive these ratings have been endorsed by the National Quality Forum, a nonprofit organization that endorses consensus standards for measuring and publically reporting.
Learn More
For more information about the ratings, click here. 
For more about cardiology services at Methodist Hospital, click here.