Awards and Achievements
MECC Earns 2nd Consecutive Commission on Cancer Outstanding Achievement Award
Published: March 20, 2017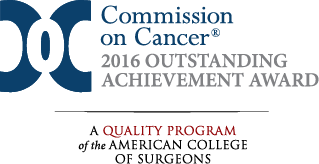 Awarded to Only 22 U.S. Cancer Programs 

Methodist Estabrook Cancer Center (MECC) is one of only 22 cancer care providers in the nation — and the only one in the area — to earn the 2016 Outstanding Achievement Award from the Commission on Cancer (CoC) of the American College of Surgeons following CoC cancer program surveys performed July 1 through December 31, 2016.
The MECC program has earned the prestigious Outstanding Achievement Award for two consecutive CoC re-accreditation survey cycles: 2013 and 2016.
The CoC Outstanding Achievement Award
This award means that our patients have the best of everything they need during one of the most important challenges of their lives — including a team who continues to lead the way in the fight against cancer.
Established in 2004, the CoC Outstanding Achievement Award is designed to recognize cancer programs that strive for excellence in providing quality care to cancer patients. Programs are evaluated on 34 cancer program standards categorized within one of four cancer program activity areas:
cancer committee leadership
cancer data management
clinical services
quality improvement
Programs are further evaluated on seven commendation standards. Award recipients must have received commendation ratings in all seven commendation standards, in addition to receiving a compliance rating for each of the 27 remaining cancer program standards. For more information on program standards, visit the ACS website.
For the press release announcing Methodist's 2016 Commission on Cancer Outstanding Achievement Award, click here.
Methodist: Continuous CoC Accreditation Since 1956
Methodist, the first cancer provider in Nebraska and the Omaha metro area to become accredited, earned the status in 1956 and has been continuously accredited ever since.
For the September 2016 announcement of MECC's CoC re-accreditation with commendation following the 2016 survey, click here.