News and Events
HIPAA Holiday Alert: On the 12th Day of Breaches My Hacker Sent to Me...
Published: Dec. 7, 2016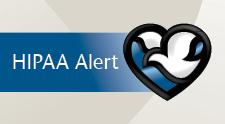 We know what our true love sends on "The Twelve Days of Christmas," but what are hackers trying to send to us? Consider how unhappy the holidays (and the rest of the year) would be with these twelve days of breaches.
HIPAA Holiday Cheer (Lament?)
By Elizabeth Litten
Posted in HIPAA Enforcement
On the twelfth day of breaches
my hacker sent to me:
Twelve Data Downloads
Eleven Plundered Patches
Ten Missed BA Contracts
Nine Malware Installs
Eight Mis-Sent Faxes
Seven Stolen Laptops
Six Snooping Staffers
Five Old NPPs
Four Lost Thumbdrives
Three Re-Sent Texts
Two Pop-Up Links . . .
And a Bill for Compliance Auditing.
For more information on HIPAA, contact HIPAA Privacy Officer Zorana Vojnovic at (402) 354-6863 or zorana.vojnovic@nmhs.org.
---
"HIPPA Holiday Cheer (Lament?)" reprinted with permission of author and Fox Rothschild LLP. For the original posting to Fox Rothschild LLP 's "HIPAA, HITECH & HIT" blog, click here.