News and Events
Property Brothers Congratulate Methodist's Rebuilding Together Team
Published: Oct. 19, 2016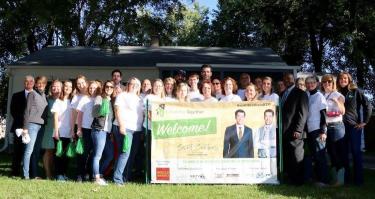 Methodist Health System and Rebuilding Together bring volunteers and the community together to improve homes and lives of low-income, disabled and elderly homeowners.
This year, Rebuilding Together and a volunteer team from Methodist had the honor of transforming the home of a low-income veteran. The work included a completely remodeled kitchen, bathroom, all new paint inside and out, new landscaping and new oak wood floor.
On September 29, the Scott Brothers of the TV show "Property Brothers" stopped by to support Rebuilding Together, inspect the work and congratulate the team on a great job.
To visit the Rebuilding Together Omaha website, click here.