Awards and Achievements
MECC Earns Re-Accreditation with Commendation from Commission on Cancer
Published: Sept. 21, 2016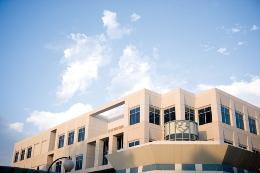 Continuous Accreditation Since 1956
Demonstrating its ongoing commitment to providing quality cancer care with a multidisciplinary team approach, Methodist Estabrook Cancer Center (MECC) has been granted a three-year re-accreditation with commendation from the Commission on Cancer (CoC) of the American College of Surgeons.
Methodist, the first cancer provider in Nebraska and the Omaha metro area to become accredited, earned the status in 1956 and has been continuously accredited ever since.
To earn CoC accreditation, a cancer program must meet or exceed 34 CoC quality care standards, be evaluated every three years through a survey process, and maintain levels of excellence in the delivery of comprehensive patient-centered care. The three-year accreditation with commendation is only awarded to a facility that exceeds standard requirements at the time of its triennial survey.
Earning full CoC accreditation means patients of Methodist Estabrook Cancer Center receive:
Quality care close to home

Comprehensive care

A multidisciplinary, team approach

Information and education

Patient-centered services

Options for genetic assessment and counseling, and palliative care services

Ongoing monitoring and quality improvement

Treatment planning based on evidence-based national treatment guidelines

Clinical trials and new treatment options

Follow-up care including a survivorship care plan

Patient tracking through the cancer data system
There are currently more than 1,500 CoC-accredited cancer programs in the United States and Puerto Rico, representing 30 percent of all hospitals. CoC-accredited facilities diagnose and/or treat more than 70 percent of newly diagnosed cancer patients. The CoC provides the public with information on the resources, services, and cancer treatment experience for each CoC-accredited cancer program through its CoC Hospital Locator.