Awards and Achievements
Methodist Marketing Presents ParentSavvy.com at SHSMD
Published: Sept. 14, 2016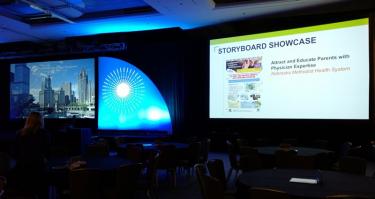 One of MHS Marketing's innovative success stories -- Methodist's ParentSavvy.com website that attracts and educates parents with physician expertise -- was selected as one of 13 storyboards to be presented at The Society for Healthcare Strategy & Market Development (SHSMD) annual conference in Chicago on September 11-14.
MHS Manager of Interactive Strategy & Production Sue Klein, creator of the ParentSavvy.com website, and MHS Corporate Vice President & Chief Marketing Officer Stephen Zubrod are representing Methodist at the conference. In addition to presenting the ParentSavvy success story at SHSMD, Klein has presented ParentSavvy at health care conferences at Mayo Clinic and Johns Hopkins.
ParentSavvy is a health and parenting resource featuring parenting advice, tips, tools and expert answers to parents' questions. With its award-winning content and value-added partnerships with local family-focused organizations, ParentSavvy has become a popular community hub for parents of newborns, toddlers, school-age children, adolescents and teens. More than 1,000 parents visit ParentSavvy.com every day.
ParentSavvy.com has won multiple awards, including the PR Daily International Social Media Award, e-Healthcare Leadership Awards (Best Integrated Marketing, Best Overall Internet Site, Best General Consumer Health Content) and Greystone Best in Class Award (Consumer Health Content).
Methodist's ParentSavvy storyboard is shown at right. The conference display is larger than 3' x 4'. For Methodist's SHSMD conference handout, click here.
Success stories chosen for presentation at SHSMD come from these organizations: 
Baird Consulting Group

Baystate Health (Western New England)

Centura Health (Colorado & Kansas)

DocASAP & Penn Medicine (University of Pennsylvania Health System)

HDR & Kaiser Permanente (California, Colorado, Georgia, Hawaii, Maryland, Virginia, Washington DC, Oregon, Washington)

HealthEast Care System (St. Paul, Minnesota)

Henry Ford Health System (Detroit, Michigan)

Houston Methodist (Texas)

Methodist Health System (Omaha, Nebraska)

Nationwide Children's Hospital (Columbus, Ohio)

Princeton HealthCare System (New Jersey)

Stormont Vail Health (Kansas)

Saint Francis Healthcare System (Missouri) & The Roberts Group
SHSMD, a personal membership group of the American Hospital Association, is the largest and most prominent voice and resource for healthcare strategists, planners, marketers, and communications and public relations professionals nationwide.