Awards and Achievements
DAISY Team Award Winner: Methodist Hospital IV Team
Published: Sept. 14, 2016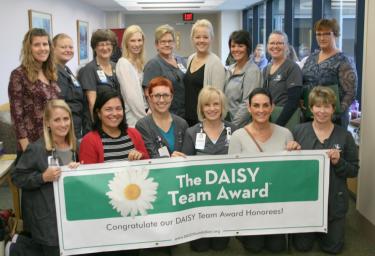 The Methodist Hospital IV Team was honored at a recognition ceremony on Tuesday, September 13, as the DAISY Team Award winner for Methodist Hospital and Methodist Women's Hospital.
The IV Team was nominated for the honor by nursing leadership who praise the members for their excellent service to patients, families and staff. 
The IV Team provides essential services and support by starting much-needed IVs, placing PICC lines and access ports, troubleshooting multiple venous access devices and providing education.
The nominators wrote, "The IV Team is always looking for ways to ease the pain or discomfort of our patients and works diligently to help the health care team in reducing healthcare-acquired conditions caused by central lines. We could not provide excellent services without these wonderful nurses!"
The IV Team's expertise and teamwork make a real difference every day, as illustrated by one of many comments from the Progressive Care nurses: "I feel so fortunate that we have experts in venous access so our patients get appropriate and timely medications and fluids. The acuity we see on our floor can be overwhelming, but the teamwork and collaboration we experience with the IV Team helps guide us through the shift!"
For More on the DAISY Award-Winning IV Team
See The Meaning of Care blog "Teamwork Makes All the Difference."
---
The DAISY Award is a nationwide program that rewards and celebrates extraordinary skill and compassionate care given by nurses every day. Nurses can be nominated by anyone, including patients, family members, physicians, supervisors or their peers.
To nominate a nurse at Methodist Hospital or Methodist Women's Hospital, visit www.bestcare.org/daisy.