Awards and Achievements
Congratulations to the MHS Nurse Residency Program Graduates
Published: Sept. 1, 2016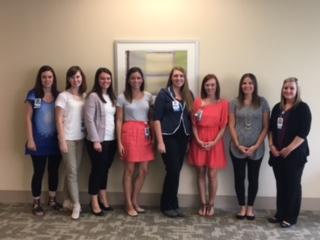 Congratulations to the 10 nurses of Cohort #13 who graduated from the MHS Nurse Residency Program on August 18.
The program assists new graduates with transitioning into their professional role. Graduates completed 12 months of learning focused on critical thinking, patient safety, leadership and communication skills, evidence based practice and professional development.
Nurse Residents from left: Stephanie Goelz, Tori Ross, Shaila Fox, Mackenzie Findley, Katelyn Smith, Sherry Graner, Ashley Munter and Taylor Peterson.
Not pictured: Sarah Fietz and Megan Sander.