News and Events
Rebuilding Together: Saturday, September 17
Published: Aug. 30, 2016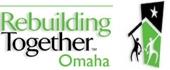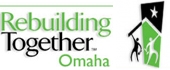 Methodist Health System and Rebuilding Together bring volunteers and the community together to improve homes and lives of low-income, disabled and elderly homeowners.
Omaha's Rebuilding Together Day is Saturday, September 17. Both skilled and unskilled workers are needed. Rebuilding Together teams typically help the homeowner by doing general cleaning, painting, and general repairs to their house.
This year is very special. Methodist has the honor of transforming the home of a low-income veteran, and the Scott Brothers of the TV show "Property Brothers" will come out to inspect the team's work.
For More Information and to Volunteer
Contact Bruce Cook at Bruce.Cook@nmhs.org
To visit the Rebuilding Together Omaha website, click here.