News and Events
Methodist Staff Help with See, Test & Treat Program at Charles Drew Health Center
Published: July 21, 2016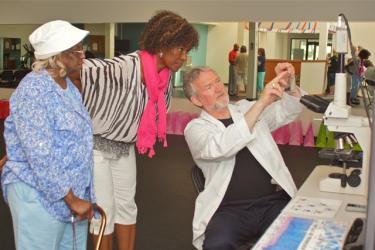 College of American Pathologists members, including The Pathology Center's Gene Herbek, MD, and Deborah Perry, MD, collaborated with a volunteer team of physicians and health care providers at the See, Test & Treat Program held on July 9 at Charles Drew Health Center. 
This program provides free cervical and breast cancer screenings to uninsured women along with same-day results, education and a plan for follow up care. Supporting over six different languages, this community benefit program served approximately 40 women. 
In addition to many community volunteers, five oncology-certified nurses from Methodist Estabrook Cancer Center and Methodist Hospital Inpatient Oncology volunteered to provide the test results in person to the participants.
See, Test, and Treat aims to celebrate and empower women in the Omaha community by providing breast and cervical cancer screening, results, resources, information and support for any future health services. The goal is to help women walk away from the event feeling supported, empowered and informed.