Awards and Achievements
22 AgeWISE Nurses Graduate, Next Cohort Begins July 20
Published: July 1, 2016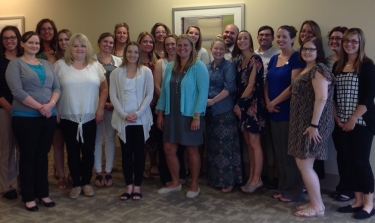 The following 22 nurses graduated from the AgeWISE Geropalliative Care Nurse Residency Program at Methodist Hospital on June 29, bringing the total number of AgeWISE nurses at Methodist to 164.
Twenty of the new graduates represent eight nursing units, the care management department and patient care services at Methodist Hospital. This is the first time Methodist Women's Hospital was included, and two graduates are nurses from the Methodist Women's Hospital fourth floor GYN unit.
Within the next six months, the nurses will sit for certification in either Gerontological Nursing or Hospice and Palliative Care Nursing, or in their unit specialty as an outcome of the residency.
Cohort #9 AgeWISE Graduates
6N Progressive Care Unit
Danielle Opitz
Alex Anthone
Nevada Schnatz
Sarah Bell

6S Oncology Surgery Unit
Sarah Retana
Lauren Moheng

7N Critical Care Unit
Madison Cooper

7S Acute Care for Elders
Lynn Houston
Emily Johansen
Katie Carnahan
Christina Queen

8N Ortho/Neuro Unit
Laura Beck
Amy Fitzgerald

8S Medical Surgical Unit
Kenzie Thompson
Kiley Oberhauser

9N/S Cardiac Unit
Jenny Fisher
Susie Riley

Care Management
Kirsten Engelken
Stacey Jones

Administrative Coordinator
Jean Vipond

Women's Hospital 4th Floor GYN/Medical Surgical
Dianne Heath
Brittney Gearhart

 
About the AgeWISE Program
The AgeWISE program promotes the crucial role nurses play in making the hospital experience better and safer for older patients. Methodist Hospital now has 164 AgeWISE nurses on staff infusing Geropalliative care nursing principles throughout the hospital.
Methodist Hospital continues to be a national leader in AgeWISE and has graduated more AgeWISE nurses than any of the original six pilot hospitals selected in 2010. This program is a collaborative between the hospital and our department of nursing at Nebraska Methodist College.
AgeWISE nurses report gaining enhanced knowledge in geropalliative care to provide more specific and sensitive care to their patients, as well as a sense of empowerment and increased confidence when having difficult conversations with patients, families, and physicians related to geropalliative care.  
Cohort #10 Begins July 20
A new cohort of 18 AgeWISE nurse residents begins July 20, 2016. The residents spend two days per month in classroom seminars and at various community clinical sites. They learn knowledge and skills in Geropalliative Care which enhances their confidence and empowers them to provide evidence-based care to older adults and their families.
Cohort #10 AgeWISE Residents
4 South
Katie Pearson
Ashley Colburn
 

6 North
Hannah Atkins
Lora Berentschot
Kim Cabriales


6 South
Brooke Kubicek
Nikki Andreesen

 

7 South
Anna Day
Makenzie Driver
Anna Johnson

8 North
Tiffany Pettit
Cora Vytlas

8 South
Cat Wolpert
Erica Soderling

 

9 N/S
Robyn Colan
Erin Ryan
 

WH ED
Heather Stofer
 

Service Executive
Sue Rohlfs

 

 

 

 
Upcoming Geriatric Education

AGES: AgeWISE Geriatric Education Seminars: July 12 & Oct. 18
To empower nurses and interprofessional staff to learn and implement best practices in geropalliative care, a quarterly CEU program called AGES (AgeWISE Geriatric Education Seminars) is available through at Nebraska Methodist College. The upcoming sessions are July 12 and October 18.
To register or for more information, click here. 
NICHE-AgeWISE Collaborative: August 26
Methodist will host a regional gerontological nursing conference entitled NICHE-AgeWISE Collaborative: Best Practices in Gerontological Care on August 26. This program will provide best practices in the care of older adults across the continuum of care. Keynote speaker Keela Herr, PhD, RN, AGSF, FAAN Professor and Associate Dean for Faculty in the College of Nursing at the University of Iowa will present on geriatric pain management.
To register or for more information, click here.
Questions?
To learn more about AgeWISE, contact Deborah Conley at @email.