Awards and Achievements
Kassi Wright Is June DAISY Award Winner
Published: June 22, 2016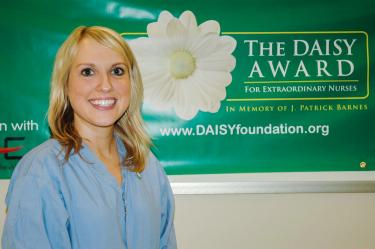 Kassi Wright, BSN, RN, C-EFM, a Labor and Delivery nurse, was honored at a recognition ceremony on Monday, June 21, as the June DAISY Award winner for Methodist Hospital and Methodist Women's Hospital.
She was nominated for the honor by a patient's mother-in-law, who described the tender care received during a time of family heartbreak: "My son and his wife were expecting their second child, but instead had a very different outcome."
After an ultrasound showed the baby had died by cord strangulation, the mother was admitted to Methodist Women's Hospital. The couple went through labor and delivery knowing they would not be taking their baby home.
"The nursing staff was excellent, especially Kassi, who was very supportive, compassionate and caring," the mother-in-law wrote. "I can't put into words how wonderful she was during this very difficult labor and birth. She was constantly by my daughter-in-law's side, providing support and encouragement as well as educating her and my son on what to expect during the labor and delivery process. She continued her excellent care following my grandchild's birth. Our entire family appreciated all she did for us."
---
The DAISY Award is a nationwide program that rewards and celebrates extraordinary skill and compassionate care given by nurses every day. Nurses can be nominated by anyone, including patients, family members, physicians, supervisors or their peers.
To nominate a nurse at Methodist Hospital or Methodist Women's Hospital, visit www.bestcare.org/daisy.