Awards and Achievements
MHS Again Named One of Nebraska's Safest Companies by National Safety Council
Published: June 20, 2016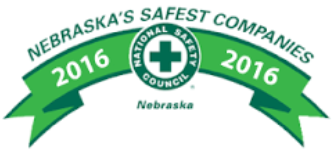 Methodist Achieves Award of Honor with Distinction
Methodist Health System received the Occupational Safety and Health (OSH) Award of Honor with Distinction from the National Safety Council, Nebraska Chapter in recognition of our strong safety program and demonstrated safety achievement.
While this is the seventh consecutive year that MHS has received an award at the annual Nebraska's Safest Companies Award luncheon, it is the first year Methodist has attained the Award of Honor with Distinction — the highest level Methodist has attained to date. Only two of Nebraska's seven Safest Companies' Awards of Honor are higher: Platinum and Double Platinum. These require sustained achievement for more than a decade (Platinum) or two (Double Platinum).
The Award of Honor with Distinction is based on the strength of Methodist's safety program and attainment of the following criteria at a level 30% better than national average as established by the Department of Labor- Bureau of Labor Statistics for Healthcare in a medical/surgical facility for four consecutive years:
Labor Workers Disability Index (LWDI)
Number of Days Away or Restricted Time (DART)
Days Away from Work
Throughout Methodist Health System, leaders and employees have placed an extremely high emphasis on safety in the workplace, and in recent years MHS has enhanced injury analysis and goal-setting to reduce a variety of specific injuries, including lifting and exertion while moving patients; needle sticks/sharps; and slips, trips and falls.
In 2011, Methodist Health System began reducing LWDI, DART and Days Away by 30% better than the national standard. This has had a direct effect on reducing injuries and costs associated with injuries, while also enabling Methodist to attain more prestigious safety awards.
MHS is currently on track to achieve the Platinum Award of Honor in 6 years if we can continue to meet the criteria at a rate 30% better than the national average. Most important, we need to remain vigilant and keep working toward the reduction and elimination of hazards and injuries to keep everyone safe.
Congratulations go the Methodist Safety Program and to the leadership and staff who continue to make Methodist one of Nebraska's safest companies!
To Learn More
For photos and the list of winners from the Nebraska Safest Companies Awards luncheon on May 25, click here.