Awards and Achievements
Methodist Hospital Foundation Honors The Meaning of Care Award Winner Chris Podoll
Published: May 9, 2016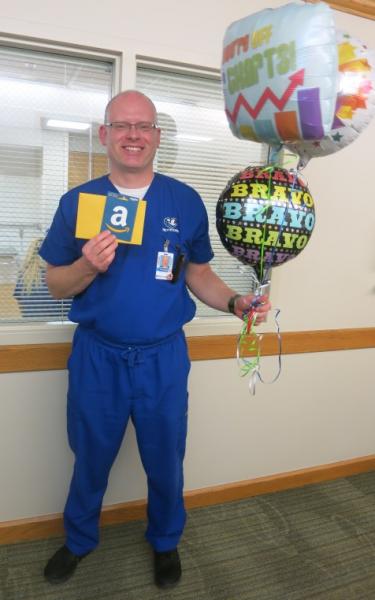 Special Thank-You During National Health Care Week
As part of National Health Care Week, Methodist Hospital Foundation honored Chris Podoll, a physical therapist, with a $100 gift certificate and balloons.
Chris and more than 140 other MHS employees were honored with The Meaning of Care Awards over the past 12 months. Their names were entered into a random drawing, and Chris' name was drawn.
The Meaning of Care Awards are a way for a grateful patient or family to honor a Methodist employee who has gone above and beyond. Making a donation in the employee's name to the Methodist Hospital Foundation is a lasting way to show appreciation.
The Foundation is forever grateful for all of the award winners for truly exemplifying The Meaning of Care.
Congratulations, Chris!