News and Events
May Is Older Americans Month
Published: April 27, 2016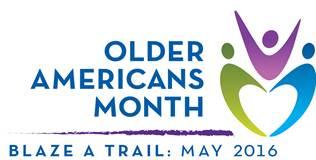 Older adults have made countless contributions and sacrifices to ensure a better life for future generations. Since 1963, communities across the country have shown their gratitude by celebrating Older Americans Month each May.
This year's Older Americans Month theme -- "Blaze a Trail" -- acknowledges the perennial contributions of older adultsand invites us to be trailblazers in promoting activities, inclusion and wellness for older Americans in our community.
Methodist Hospital
May Day baskets will be made and delivered to patients by Volunteens on Monday, May 2, since May 1 falls on a Sunday when the hospital lacks volunteers to make the deliveries.

Get-well cards made by area children will be delivered to patients throughout May.

"Wisdom of Aging" cards will be placed on patient meal trays on selected days in May.

Older adult patients on 4 South and 7 South will enjoy a mini-spa day.

Older Americans' posters will be placed in the Family Resource Center on the first floor.

Prayer cards promoting Older Americans Month will be available in the Methodist Hospital Chapel.
Methodist Jennie Edmundson Hospital & Council Bluffs
On May 13, Methodist Jennie Edmundson Family Resource Center staff will be at the Council Bluffs Senior Center. Stop by from 8 a.m. to noon for free blood pressure and BMI checks and medication cards.

Additional resources available in the Family Resource Center include Go4Life exercise and physical activity booklets as well as DVDs from the National Institute on Aging.
Resources