Awards and Achievements
The Meaning of Care Magazine: Spring Issue Debuts
Published: April 11, 2016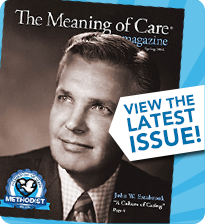 The Meaning of Care Magazine features stories of outstanding care and caring throughout Methodist Health System.
The Spring 2016 issue is a special 125th Anniversary edition featuring:
John W. Estabrook:
Founder of Methodist's Culture of Caring

The Methodist Heart and Dove

Methodist's Past, Present and Future

125 Years Brings Generations of Care

Inner Beauty Reveals Six-Year-Old Cancer Survivor's Inner Elsa
The magazine, produced by the Methodist Health System Marketing Department, was just released and will soon be distributed at all MHS affiliates.
To read the 125th Anniversary issue, click here.
The home page for The Meaning of Care Magazine is bestcare.org/tmoc.