News and Events
Join in National Walk@Lunch Day: April 27
Published: April 11, 2016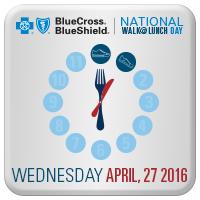 As part of Methodist's partnership with Blue Cross Blue Shield of Nebraska, MHS employees are encouraged to join in the 10th Annual National Walk@Lunch Day on Wednesday, April 27.
Tens of thousands of walkers nationwide took part in last year's event, and participation is fun and easy.
When done briskly and on a regular basis, walking can:
Decrease the risk of heart attack and Type 2 diabetes.
Control weight.
Improve muscle tone.
Reduce stress.
Register Today
Take the pledge to walk at lunch on Wednesday, April 27.
For More Information
Visit Walking Works.
For MHS Walking Maps
To find walking maps of Methodist Hospital, MHS Corporate Campus, Methodist Women's Hospital and Nebraska Methodist College, see mhsintranet under Human Resources - MHS Wellness - Get Active! - Walking Resources - Walking for Wellness Maps, or click here. (Reauthentication may be required.)