Leadership Updates
New 125th Anniversary Ad Campaign Debuts April 11
Published: April 8, 2016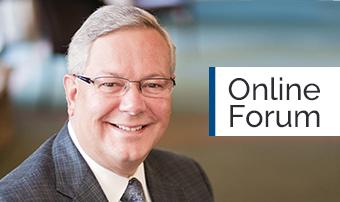 Celebration Continues with Special Gifts, Recognition for Above-and-Beyond Achievement 
In this, our 125th anniversary year, Methodist Health System's unprecedented success continues, as does the importance of telling our story.
I am delighted to announce that our exciting new advertising campaign debuts to the public on Monday, April 11. This is the most fully integrated ad campaign for consumer and employee audiences in our history. We are celebrating our vibrant heritage, present-day culture of caring and bright future of continued innovation and excellence.
While consumer research confirms that Methodist is considered our health care market's clear leader in tradition, we know that consumers are not interested in anniversary numbers or detailed history lessons. They want to know who we are today and where we are headed tomorrow. How do we exceed expectations? How are we moving forward in the 21st century?
The 125th anniversary ad campaign offers an authentic, relevant and compelling message that extends beyond the caring that is part of the Methodist DNA. I invite all members of the Methodist family to preview the television commercials at the end of this message.
Kudos go to Stephen Zubrod, MHS Corporate VP/Chief Marketing Officer, and his team, including Senior Marketing Account Managers Jenni Stoll, Amy Anderson and Tanya Patry; Anderson Partners and Corporate 3 Design, the advertising agencies behind our ad campaigns; and the Torchwerks video content creation team.
Special thanks go to our physicians, nurses and other team members who participated in the making of our ads, and I thank every member of the Methodist family for your continuing contributions.
To commemorate our anniversary, a small personal gift will be distributed to each of our 6,000+ valued employees. The gift celebrates our 125 years of caring and medical excellence as a truly transformational time. Watch for your gift to arrive hot off a delivery blitz in the coming week.
Achievement and Appreciation
Achievements throughout Methodist Health System are historic and record-setting. We had a banner year in 2014 and another in 2015.
As you know so well, volumes skyrocketed when thousands of new patients came to us during a competitor's lengthy insurance dispute with Blue Cross Blue Shield of Nebraska. After experiencing the Methodist culture of caring, a vast majority of those patients have chosen to stay. A new survey shows that 75 percent of the BCBS patients who came to us will keep their Methodist providers.
Yet even with our continued high volumes, key measures of Methodist's success have remained stellar, including patient satisfaction and retention, physician satisfaction and employee engagement.
In deep appreciation of this continued and historic achievement, more than 5,000 MHS employees will soon receive notification from their supervisors of a special monetary thank-you gift. This gift will be deposited directly to employees' accounts and appropriately increased to cover applicable taxes.
I thank you for your dedication to going above and beyond for patients and families, clients and one another. By living The Meaning of Care, you make all the difference.
And now, please enjoy a preview of our 125th Anniversary television commercials.
I also invite you to visit the microsite associated with the campaign: www.bestcare.org/beyond.
Surgery
Cancer
Women's Health
125 Years of Caring
---
We welcome your feedback. To comment on this Online Forum, send an e-mail to ForumFeedback@nmhs.org or use Employee Connection's "Submit a News Idea" online form.
Your Forum Feedback messages are forwarded to the appropriate administrator with your name for a direct response, unless you ask to remain anonymous. A sampling of Forum Feedback questions or comments of broad impact to employees may appear in future Online Forums.