Awards and Achievements
Mark Chadwell - Methodist Women's Hospital Employee of the Quarter
Published: April 5, 2016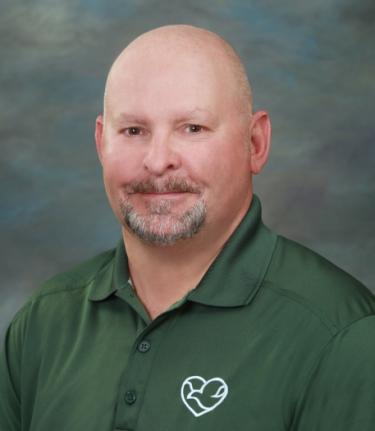 Mark Chadwell, a Lead Ground Maintenance Engineer, is the Methodist Women's Hospital Employee of the Quarter for 2nd Quarter 2016. He was honored at a recognition ceremony on March 10. 
Mark was nominated for the honor by his Team Leader, who praised Mark's dedication and work ethic, describing Mark as someone who is "always willing to do or go the extra mile."
One of the challenges Mark took on involved managing the impact of the summertime bird population at Methodist Women's Hospital.
Mark's Team Leader wrote: "He has spend a lot of time and effort, often staying to 10 p.m. trying to discourage the birds from rousting here to protect the environment and patient care — his top priority. In the meantime, someone has to clean up the mess, and Mark does it continually so the mess will not affect our patients, visitors and employees. He just gets the work done and moves on to the next thing."
Mark's immediate supervisor added a special note to the nomination in appreciation of the way Mark directed snow removal during a storm, staying onsite 24+ hours to ensure everything was cleaned up, lots were open and drives and walks were cleared of snow.
"Mark had done this on several occasions in the past three years," his supervisor wrote. "He is one of the most dedicated workers I have been associated with in my 26 years of facility management."
---
The Methodist Women's Hospital Employee of the Quarter award program began in the first quarter of 2013. Award nominations may be submitted by physicians, supervisors, coworkers and staff. Judging is based on how candidates embody the mission and core values of Methodist Women's Hospital: patient focus, integrity, excellence, learning, compassion, teamwork and respect.
All employees and staff at MWH are eligible to receive the Employee of the Quarter award. Employee of the Quarter award winners are automatically considered for the Caring Kind Employee of the Year award, as are Methodist Hospital's Employees of the Month.
To nominate a fellow employee for the Employee of the Quarter award, submit a completed application form to Administration. Each nomination is kept on file for review for two quarters. The "Employee of the Quarter - MWH" application form can be found by searching "Forms" on mhsintranet or click here.