Awards and Achievements
Congratulations to MJE Hidden Halo Recipients: 1Q 2016
Published: April 2, 2016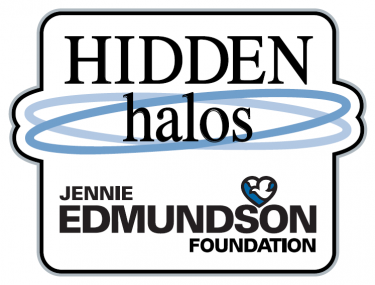 The Hidden Halos Program enables grateful patients and their family members to recognize exceptional caregivers at Methodist Jennie Edmundson Hospital. 
Any member of the MJE care team, paid or volunteer, may be nominated by a patient or family member who wishes to express special gratitude for excellent, compassionate care.
As the nomination form explains, "Our caregivers sometimes can't keep their halos hidden and are like angels on earth. Professional and dedicated fall short in describing their level of care. They are truly heaven-sent."
Hidden Halo honorees receive special recognition in their departments or nursing units, including the presentation of a Hidden Halo certificate and pin. Patients and family who make nominations often choose make tax-deductible gifts to Jennie Edmundson Foundation in their caregiver's honor.
For the Hidden Halos nomination brochure, click here. 
The following individuals and departments were honored with Hidden Halos from January 1 - March 31, 2016:
Behavioral Health
Birthing Center     
Breast Health Center
Cardiac Cath Lab
Chris Hilts, Special Proc Tech
Kylie Kerger, CAT Scan Tech
Cardiac Center
Cardiac Rehab
Emergency Department
Doris Ballantyne, RN (2 Awards)
Rose Bumsted, RN
Jean Carstensen, RN
Amanda Conn, RN
Shari Garbez, RN
Dr. Heather Hergot
Tracie Kerns, RN
Jennifer Michaelis, PA
Christie Naberhaus, RN
Jordan Pettit, Care Technician
Don Scarborough, PA
Family Resource Center
Food & Nutrition Service
Dylan Lazure
Courtney Richardson
Felicia Wyldes
Heart Care Center
Heartland Oncology
Housekeeping
ICU     
Dee Dollen, Medical Assist.
Sally Payne, RN
All Staff
MPC Women's Health
OPS    
Randy Burgan, RN
Lisa Coldewey, RN
Sheila Greene, Receptionist
Kathy Grote, RN
Lyle Kinney, RN (2 Awards)
Rhonda May, RN
Patty Richert, LPN (2 Awards)
Angie Shanno, RN
Cindy Watson, RN
All Staff (3 awards)
All Staff & Volunteers (2 Awards)
Outpatient PT
Mary-Ellen Bartels, PT (3 Awards)
Becky Bussey, RT
Diane Ryan, OTR/L, CHT
Rich Walter, PT
Patient Care Administration
Peggy Osbahr, Diabetes Educator
Personnel Pool    
PT
Respiratory Care
Surgery
Volunteers
2B    
Melissa McLean, C.N.A.
Jessica Meyer, C.N.A.
All Staff
3AB     
Stormie Hillers, C.N.A.
Jennifer Luna, C.N.A.
Amber Morris-Trujillo
Kathi Riley, RN
Kayla Ronk, C.N.A. (2 Awards)
All Staff (2 Awards)
4H     
Joseph Decarlo, RN
Marilyn Fife, RN
Jessica Finken, RN
Alyssa Larson, RN
Lei Morales, RN
Brittany Nichols, C.N.A.
Reba Richards, C.N.A.
All Staff (2 Awards)
All Staff
Watch for the list of Hidden Halo recipients to be posted  to Employee Connections on a quarterly basis.