News and Events
April Is Donate Life Month - Wear Blue & Green Day: April 15
Published: April 1, 2016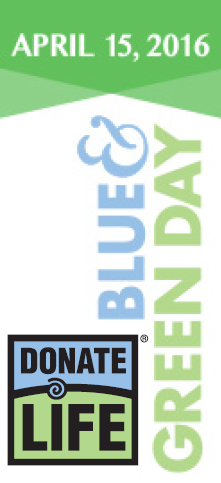 Support organ donation awareness by wearing blue and green on National Blue & Green Day: Friday, April 15.
This is a time encourage Americans to register as organ, eye and tissue donors -- and to celebrate those who have saved lives through the gift of donation.
Did you know that right now in the United States there are more than 122,000 people waiting for a life saving organ transplant? Of those awaiting transplants, 600 are in Iowa and 500 are in Nebraska.
Every day 22 Americans die because they didn't get the life-saving transplant they needed, but the good news is that one organ donor has the potential to save eight lives, and one tissue donor can enhance 50 to 300 lives.

When surveyed, nearly 90 percent of Americans claim to be in support of organ and tissue donation, but when it comes to registering their decisions, fewer than 50 percent of Americans have taken the steps to do so.
Know the facts:
All U.S. religions do support organ donation, and consider it an act of charity toward our fellow man.

People of all ages and medical histories have the potential to donate. Experts evaluate each case individually.

There is no cost to a donor or their family to donate organs.

The donation process does not impact funeral plans.
Join the Organ Donor Registry any of three ways:
Mark YES at the DMV to Organ and Tissue Donation.

Register online at www.nedonation.org or www.IowaDonorNetwork.org.

Call to request a donor registration card from the Nebraska Organ Recovery (402-733-1800) or the Iowa Donor Network (800-831-4131).  
No matter what your decision, talk to your family and let them know what your wishes.